CRAZY HORSE BAR AND GRILL GETS NEW MENU!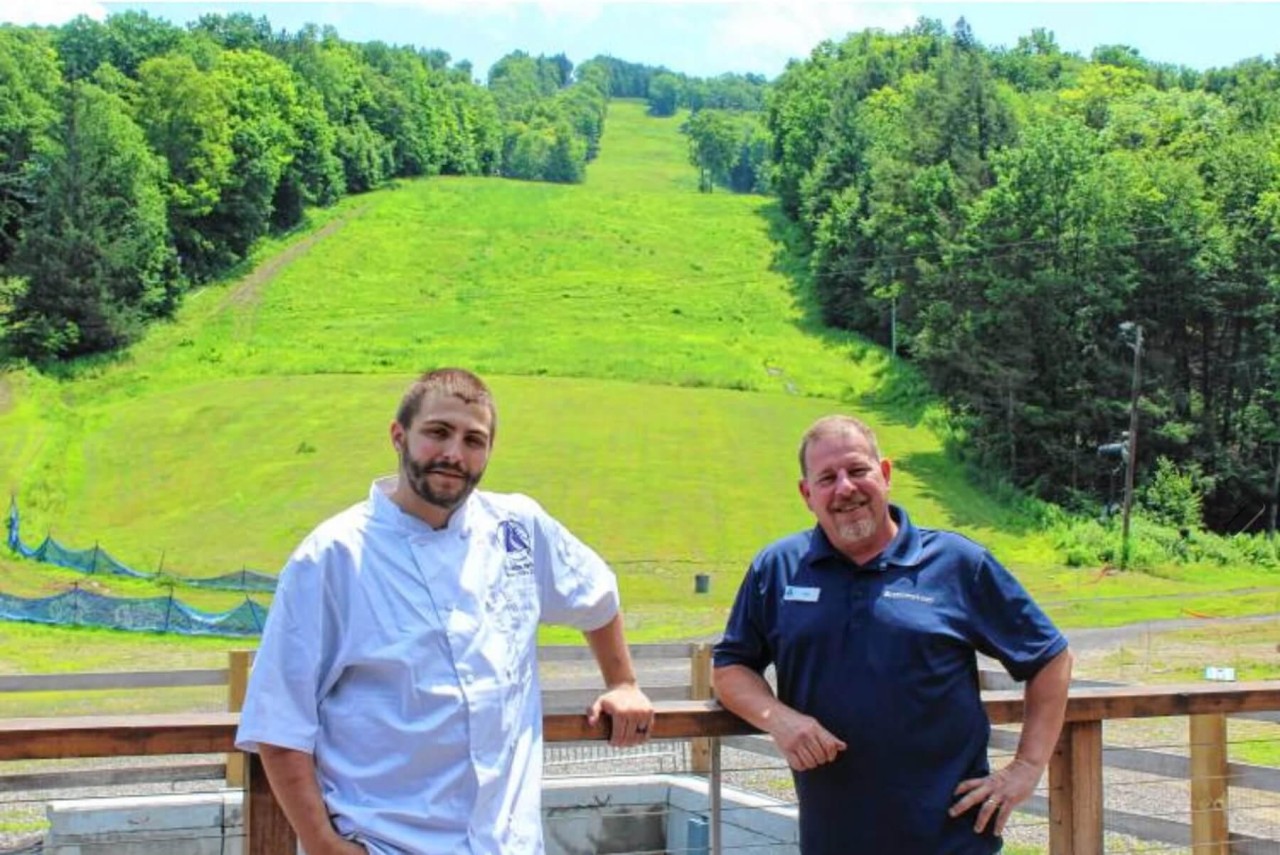 NEW STAFF MEMBERS REVAMP MENU AT CRAZY HORSE BAR & GRILL IN CHARLEMONT

Click here for the full article from the recorder!
New staff members revamp menu at Crazy Horse Bar & Grill in Charlemont
Two heads are better than one, the saying goes. At Berkshire East Mountain Resort's Crazy Horse Bar & Grill, Food and Beverage Director Alan Dellert and Executive Chef Coleton Skibik put their heads together to revamp the menu with fresh, local ingredients and craft cocktails.
Both hired at Berkshire East last winter, Dellert and Skibik describe the timing and their teamwork as a "perfect match." While Dellert was hired at Berkshire East before Skibik came on board, the two had worked together about a decade prior and knew what the other brought to the table.
Dellert said he always had the intention of upgrading the food program mountain-wide, so when Skibik came to Berkshire East looking for a job, Dellert knew he was the chef with a palette and skills who would help him bring his vision to fruition.
Dellert and Skibik see this as an opportunity to create a food destination for greater Western Massachusetts. What Skibik saw initially as just a secure job in the age of the pandemic, he now sees as the chance to bring a sit-down dining experience to his hometown of Charlemont.
"Right now, Charlemont in itself doesn't really have a place to go sit down and eat dinner," Skibik said. "We wanted to bring that back to Charlemont because that's really what it needs."
From Vermont-raised steak, to North Atlantic salmon, to foraged wild mushrooms, Dellert and Skibik have created a concise food program, procuring local ingredients and sourcing from the community around them as much as they can.
"It's supporting local business, using local ingredients," Skibik explained.
For Dellert, it's a belief system that led him to cultivate this goal.
"I think it's important to procure things from as close to home as you possibly can," he said. "You want to help make the world a better place? Start with your neighbors."
Dellert even began providing for the Crazy Horse Bar & Grill by way of urban farming — for almost six years at his last job, he grew microgreens to-order for various chefs he worked with. To combat the expense of microgreens and their extremely perishable nature, Dellert has now built a small microgreens garden underneath the staircase leading to the lodge's mountain bike storage. He and Skibik use the greens not only as garnishes, but for their popular microgreens salad.
Dellert and Skibik believe that the passion they exhibit is part of what makes the Crazy Horse so successful. They say it's behind everything they do, not just at the Crazy Horse, but also at the Warfield House Inn, where they have in-house wedding dining options along with their traditional venue.
"The feedback that we're getting from our guests is overwhelmingly positive," Dellert said.
Both Dellert and Skibik say they find their mission and goals extremely fulfilling.
"It's a great sense of accomplishment," Skibik said. "It's nice to be able to express myself through the food and use my passion and love for food to make things my own. I never really had that opportunity before."
And they're only just beginning their creation of a totally in-house dining program across Berkshire East. Come winter, according to Dellert, they plan to create different dining identities for both the cafeteria and West Lodge. One, serving waffles and gourmet hot chocolate, and the other, gourmet pizzas, takeaway salads and craft beer.
The Crazy Horse Bar & Grill, then, is an option for those looking for "craft cocktails and casual dining," as not only has the dinner menu been reconfigured, but Dellert is using his background in specialty cocktails to upgrade bar options.
The restaurant offers open mic nights on Fridays from 6 to 9 p.m., and plans to have live music in the future.
Stay Informed
When you subscribe to the blog, we will send you an e-mail when there are new updates on the site so you wouldn't miss them.
Comments
No comments made yet. Be the first to submit a comment