SNOW AND SMILES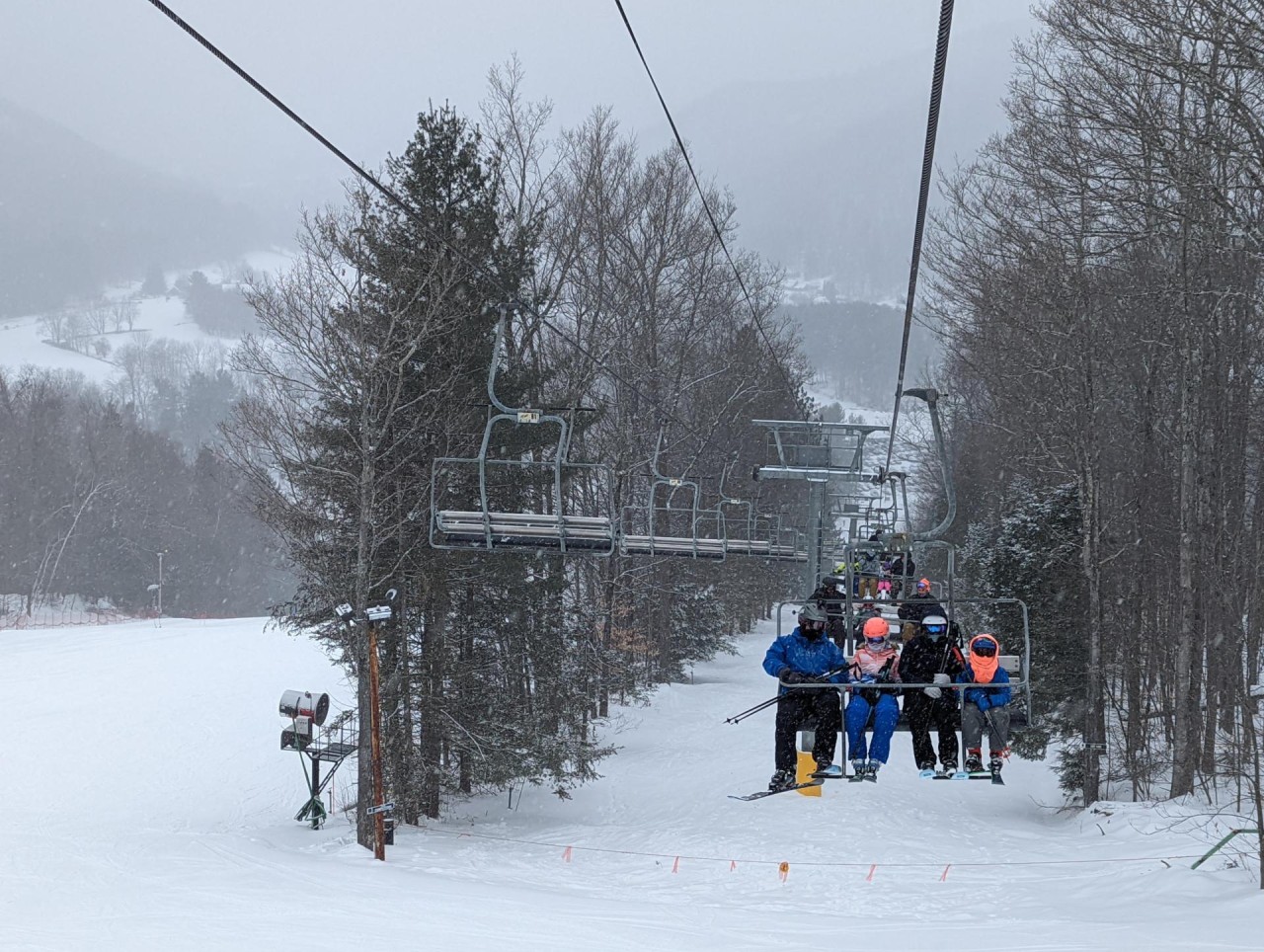 A FRESH PERSPECTIVE FROM CONTRIBUTING WRITER S. ROJAS

The slopes are snowy, trails are open, and the community is welcoming at Berkshire East.
New skis and new friends on freshly opened trails–does it get any better? Ok, maybe I'm overselling it a little here; the skis are over a decade old, and I don't know if sharing a lift and swapping contact information or taking a few runs together really counts as friendship, but it's still a great way to spend the day.
These days, it seems getting outdoors and spending time with friends is one of the only ways to connect and keep in touch. So what's a grown kid to do when they need a spot to hang out, or a new crew? This season, Berkshire East has become one of my go-to places, though not necessarily with those goals in mind.
I suppose it really started last season. With the pandemic in full swing and working remotely on Pacific Standard Time, I decided to make the most of it by snagging a weekday pass at one of the early, pre-season sale rates. With a handful of hours every morning before I had to plug into meetings, it seemed like the perfect opportunity to learn to ski or snowboard. Of course, as fate would have it, I only had a month or two before I was called back to in-person work, but made the most of it while I could. While I got my money's worth out of the pass, this turn of events obviously called for a second attempt. So, when this season rolled around I was ready with my pass, beginner mindset, and my bundle of used ski gear.
One of the things I've grown to love about the mountain is that there's a bit of something for almost everyone. I started my season picking my way down Outback, Deer Run, and Lower Mohawk, all approachable green and blue, though it's worth noting Deer Run has many intersections and traverses the side of a slope, which means compensating a little as you make your way to Lower Mohawk. Once more trails opened up, Outback to Roundabout became the solid choice for some approachable, fun, easy skiing.
Faster folks race down Upper Competition, or seek the moguls out on Big Chief, but I've yet to go play in the bumps. Fortunately, there's a smoother, easier way down Big Chief, which has given me plenty of opportunities to watch my more skilled friends maneuver through the moguls without forcing me to do something over my skill level while skiing with them.
On that note, even when skiing solo, rare is the day I'm not invited to ski down the hill with at least a couple new faces who I happened to share a chair with or meet at the top of the lift. It's the difference between being another face in the amusement park line, and paddling a kayak down the Deerfield; in one you're an obstacle, and in the other, you're another person to connect with in a sport you're both enjoying. Some of the kind folks I've met have even given me pointers and free advice on how to improve my technique.
All in all, whether it's just another day working on my technique or one filled with friends and new connections, most days see me pulling out of the parking lot with a smile on my face, looking forward to my next run up and down the mountain.
Stay Informed
When you subscribe to the blog, we will send you an e-mail when there are new updates on the site so you wouldn't miss them.
Comments
No comments made yet. Be the first to submit a comment