THUNDER DAYS ARE BACK!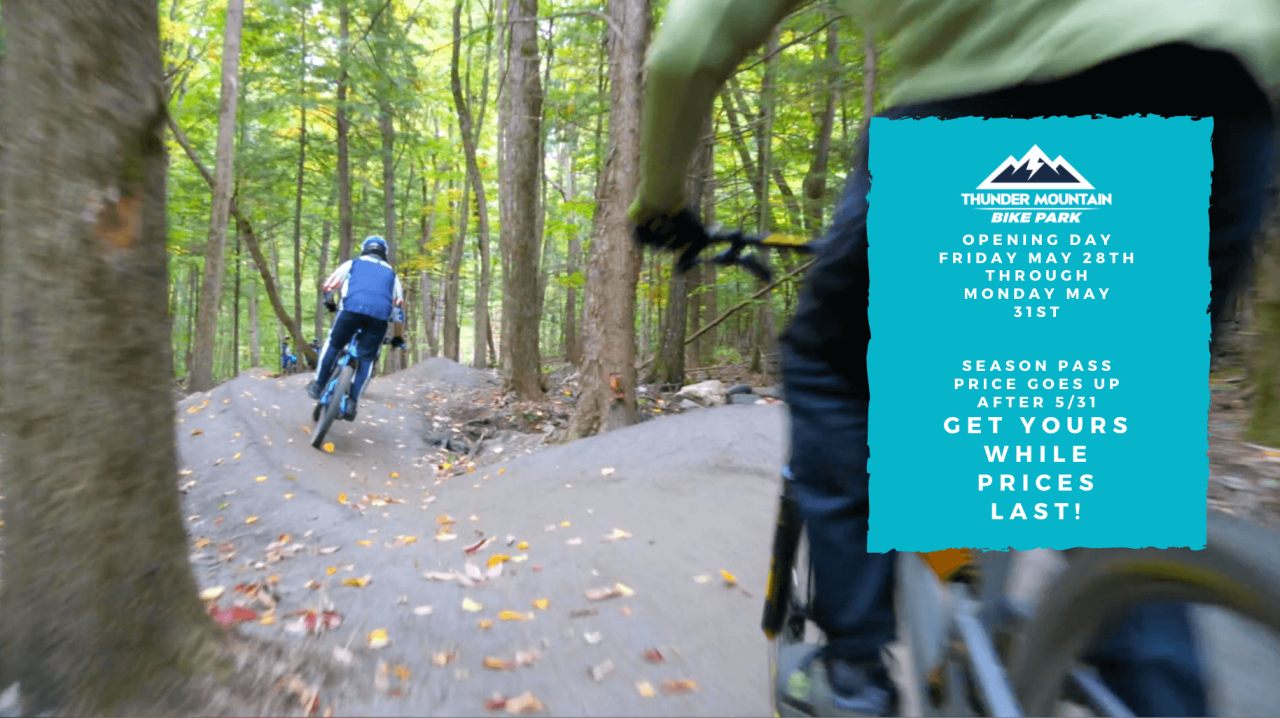 Thunder Days are back! We can't wait to see everyone back on the hill. The first chair opens at 10am on Friday, May 28th, with riding from 9am to 5pm through Monday the 31st.
Here is a quick rundown of what to expect this year and provide some updates.
Season Pass Deadline: Get your Thunder Mountain Bike Park season pass before May 31st and save $50! May 31st is coming up fast; click the link below to get your Season Pass right now!
Covid Operation Update: What a difference a year makes! Starting May 29th, Massachusetts will be lifting most covid restrictions. This means that face coverings will no longer be required outside, and only in limited environments. However, those unvaccinated are encouraged to continue to wear them inside. Click here to read more.
High fives, face-to-face smiles, and the clinking of cold beer glasses are right around the corner! Please be respectful of those still cautious or requesting distance as we transition to the new normal.
Tickets & Rentals: Purchase in advance! We will continue a limit on daily tickets sales and bike rentals, so make sure you buy before you come and don't miss out. We have added tiered pricing to tickets this year, so the earlier you buy, the more you save. To purchase tickets, click here, and to rent a bike, click here.
More Chairs = More Riding: We have added bike carriers and will be running an additional summit chair on busy days this year! This should mean shorter lines and more riding. We will be operating two chairs on busy days. We are doing everything possible to make sure both lifts are operational for opening weekend, but as of today it's a race as the new deck on the additional lift is still fitting into place.
Camping: Lifted restrictions will mean more camping availability this season. We will be offering 5 Oversized vehicle spots as well as 17 normal camp spots.
Reservations must be made in advance by calling (413) 339 6617. Limited spots are available still for opening. Online reservations will be available after Memorial Day.
Bone Frog (June 19th): A quick reminder that Thunder Mountain Bike Park will be closed on June 19th while hosting the Hesco Bone Frog Challenge.
Trail Updates: Our trail crew has been busy getting the trails into the condition you have grown to expect here at Thunder. They do an amazing job, so don't forget to give them a props when you see them. Gravity Logic is here as well and is giving Sleeping Jakes a rebuff and helping touch up the park.
We know you are ready to hit all the trails after a long winter, but please keep off closed trails while getting them buffed. For those here last fall, you will remember that we have a new intermediate flow trail named Cat and Mouse, which we will being getting open as soon as possible. Additionally, we gave Blue Pulaski a new lower section to improve our intermediate riding.
We are so stoked to welcome everyone back for the summer! See you all soon!
Anticipated Trails for Opening Weekend:
Sugar Line
Tackleberry
Gronk
Blue Pulaski (to mid-point)
Sleeping Jakes (to Powder Blue)
Powder Blue
Harold's Blend
Trillium
Chinstrap
Billy's World
Long John
Juggernaut
Cliff Clavin
Back of Shack
Old Blend
Thunder Cliffs
Billy Badger
Wine Tree
Loamstar
The Schist
Too Easy
Next Up: Crew will be working to open in the coming weeks
Cat n' Mouse
Hawelywood
Fort Hill
Lower Sleeping Jake's
Sugar and Spice
Stay Informed
When you subscribe to the blog, we will send you an e-mail when there are new updates on the site so you wouldn't miss them.
Comments
No comments made yet. Be the first to submit a comment